HAND PUMP SPARE
For water drawing from 20 to 30 ft. Durable and sturdy structure. Good looking and good performance

| CODE | NAME | SIZE (mm) | SIZE (Inch) |
| --- | --- | --- | --- |
| HP-B | Body | 15/20/25 | ½"/¾"/1" |
| HP-B | Body | 40 | 1½" |
| HP-H | Handle | 15/20/25/40 | ½"/¾"/1"/1½" |
| HP-BA | Bend | 15 | ½" |
| HP-BA | Bend | 20 | ¾" |
| HP-BA | Bend | 25 | 1" |
| HP-BA | Bend | 40 | 1½" |
| HP-MW | PVC Main Washer | 15/20/25 | ½"/¾"/1" |
| HP-MW | PVC Main Washer | 40 | 1½" |
| HP-TW | PVC Top Washer | 15/20/25 | ½"/¾"/1" |
| HP-TW | PVC Top Washer | 40 | 1½" |
| HP-BW | PVC Bottom Washer | 15/20/25 | ½"/¾"/1" |
| HP-BW | PVC Bottom Washer | 40 | 1½" |
| HP-CNT | Clamp Nut Top | 15/20/25 | ½"/¾"/1" |
| HP-FNT | Flang Nut Top | 15/20/25 | ½"/¾"/1" |
| HP-FNT | Flange Nut Top | 40 | 1½" |
| HP-CNN | Clamp Bottom Nut | 15/20/25 | ½"/¾"/1" |
| HP-CNN | Flange Bottom Nut | 15/20/25 | ½"/¾"/1" |
| HP-FBN | Flange Bottom Nut | 40 | 1½" |
| HP-BH | Big Hook | 40 | 1½" |
| HP-SH | Small Hook | 15/20/25/40 | ½"/¾"/1"/1½" |
| HP-S | Stud | 15/20/25 | ½"/¾"/1" |
| HP-S | Stud | 40 | 1½" |
| HP-FSC | Full Set Complete | 15/20/25 | ½"/¾"/1" |
| HP-FSC | Full Set Complete | 40 | 1½" |
| HP-RP | Rivet Pin with Cotter Pin | 15/20/25/40 | ½"/¾"/1"/1½" |
| HP-C | Corrugated Box | 15/20/25 | ½"/¾"/1" |

---
Strong and Light Weight
PVC's abrasion resistance, light weight, good mechanical strength and toughness are key technical advantages for its use in building and construction applications.
Easy to Install
PVC can be cut, shaped, welded and joined easily in a variety of styles.
Fire Resistant
PVC is inherently difficult to ignite and stops burning once the source of heat is removed. Compared to its common plastic alternatives PVC performs better in terms of lower combustibility, flammability, flame propagation and heat release. Newly developed advantages in terms of lower acid emissions, smoke generation and enhanced fire resistance.
Durable
PVC is resistant to weathering, chemical rotting, corrosion, shock and abrasion, it is therefore the preferred choice for a range of customers for many different long-life and outdoor products. In fact, medium and long term applications account for some 85 percent of PVC production in the building and construction sector.
Cost - Effective
PVC has been a popular material for construction applications for decades due to its physical and technical properties which provide excellent cost-performance advantages. As a material it is very competitive in terms of price, this value is also enhanced by the properties such as its durability, lifespan and low maintenance.
Enviromental Impact
In lifecycle analyses and independent studies, PVC's environmental impact has been found to be favourable when compared with other manufactured materials used for construction. It is comparatively low in its energy and resource use during production, as well as in conversion to finished products.
Good Insulator
PVC does not conduct electricity Aquachem & Kranti products are non conductor of electricity so it makes the plumbing system safe when working with electrical tools or equipments SAFE MATERIAL Aquachem & Kranti products are non-toxic and lead free which makes it a safe material for potable water.
Versatile :
The physical properties of PVC allow designers a high degree of freedom when designing new products and developing solutions where PVC acts as a replacement or refurbishment material.
KRUSHI HIGH PRESSURE BALL VALVES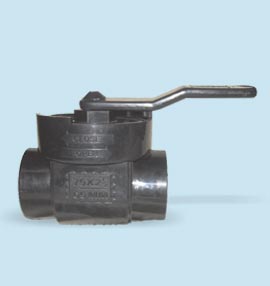 FLANGE BLACK NRV [BALL TYPE]
| CODE | SIZE (MM) | SIZE (INCh) | SMALL PKG. | STD. PKG. |
| --- | --- | --- | --- | --- |
| POPBV-B | 32 | 1" | - | 125 |
| POPBV-B | 40 | 21¼" | - | 70 |
| POPBV-B | 50 | 1½" | - | 50 |
| POPBV-B | 63 | 2" | - | 33 |
| POPBV-B | 75 | 2½" | - | 24 |
SERVICE SADDLE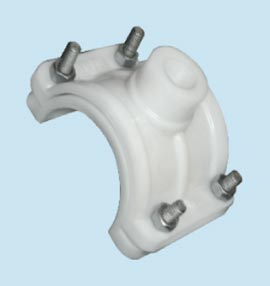 SERVICE SADDLE [WHITE]
| CODE | SIZE (MM) | SIZE (INCh) | STD. PKG. |
| --- | --- | --- | --- |
| SS-W | 50 x 20 to 32 | 1½" x ½" to 1" | 150 |
| SS-W | 63 x 20 to 32 | 2" x ½" to 1" | 90 |
| SS-W | 75 x 20 to 32 | 2½" x ½" to 1" | 80 |
| SS-W | 90 x 20 to 32 | 3" x ½" to 1" | 70 |
| SS-W | 110 x 20 to 32 | 4" x ½" to 1" | 60 |
| SS-W | 140 x 20 to 75 | 5" x ½" to 2½" | 54 |
| SS-W | 160 x 20 to 75 | 6" x ½" to 2½" | 40 |
| SS-W | 180 x 20 to 75 | 7" x ½" to 2½" | 20 |
| SS-W | 200 x 20 to 75 | 8" x ½" to 2½" | 15 |
SERVICE SADDLE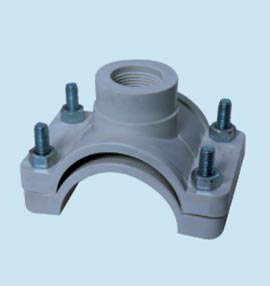 SERVICE SADDLE [GREY]
| CODE | SIZE (MM) | SIZE (INCh) | STD. PKG. |
| --- | --- | --- | --- |
| SS-G | 50 x 20 to 32 | 1½" x ½" to 1" | 150 |
| SS-G | 63 x 20 to 32 | 2" x ½" to 1" | 90 |
| SS-G | 75 x 20 to 32 | 2½" x ½" to 1" | 80 |
| SS-G | 90 x 20 to 32 | 3" x ½" to 1" | 70 |
| SS-G | 110 x 20 to 32 | 4" x ½" to 1" | 60 |